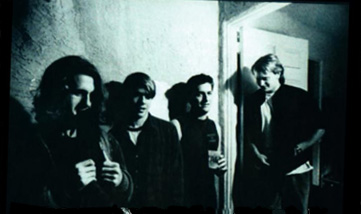 I can without hesitation always name this record as my all time favorite. Period.
In high school I can remember discovering the great music in San diego's local scene. I would stay up late at night and record the local music show on 91X. If I couldn't quite stay up to hear the end of the show late at night I'd record it on a cassette and bring it to school the next day to discover the new bands that would become an obsession for me. So many of the bands from this era, the late 80s, don't stand the test of time but certainly Pitchfork does.
The album came out after the band had already broken up so we are very lucky in a sense that it ever came out at all. I remember talking to John the guitarist about how much I loved the album and he said that they had recently ditched a slew of other songs that were going in a totally different direction so the album nearly came from a different angle. I can't imagine what that would've sounded like but the songs that we ended up with are a serious milestone in San Diego's cherished musical heritage. Even having listened to this album literally hundreds of times, I still enjoy listening to it regularly.
The line up had changed since its inception. Originally Pitchfork was a three piece (guitar/bass/drums) and had a faster, more chaotic sound. Don Ankrom the original bass player was a slapper so even though he was a fantastic player it may have date stamped the project a bit. He moved away and was replaced by Nick Frederick, who played much steadier and more straight ahead. Less wild and original but arguably more supportive. Joey Piro drums with a great energy. Slightly unpolished but with a powerful and creative approach. Guitarist John Reis played in a very energetic way, often contorting and wrenching the sounds from his guitar. The use of noise was musically interweaved with melody. John also sang originally but later Rick Froberg teamed up as their vocalist. All their official releases have Rick on vocals. Rick also is an amazing artist. He did all of their album art along with the art for many other San Diego bands over the years, as well as much of the illustration work for the local label Headhunter.
I often see brief mentions of Pitchfork as the roots of the musical tree that led to Drive Like Jehu, Rocket from the Crypt, Obits, Hot Snakes, Night Marchers and others. Even going all the way back to 1990, this group of songs flow together so well that if you are a fan of any of those bands, it's a crime to not really dig into this stuff. You won't regret it.