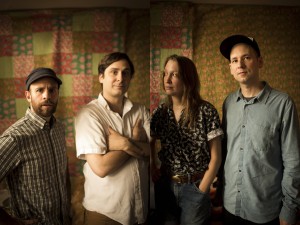 Theo Katsaounis was kind enough to chat about his perspective on making art and the struggles of the road. I had the pleasure of seeing Joan of Arc play on a recent tour and was immediately struck by Theo's unique and creative style.  Joan of Arc plays in an extremely varied manner that ranges from bombastic math-rock to avant-garde to sparse unaccompanied vocal performances. I was also struck by they way they would weave songs together into seamless movements of music throughout their set. After spending a few days on the road with the Joan of Arcs I was inspired to ask some questions and get a sense of where these guys are coming from. Here is a glimpse of their inner-workings and real-world atmosphere of their life in the band.
MF: Can you describe the differences between some of your current and previous band situations?
TK: Most bands I've been in over the years have felt like a family and even more so now with Joan of Arc. Whether it being at practice writing new material or on tour, we have our own language that I may or may not have had with previous bands. It's a family affair.
MF: What's a typical writing process for Joan of Arc from the initial idea to what gets performed?
TK: JOA has been a band since 1996. There have been many members in and out of the band over the years. So Tim has been the sole member from the beginning and has been the main songwriter the majority of the bands existence. Only in the last few years has it become more of a collaborative effort. Tim, bobby and I have been the core of the band and have developed a JOA language; At least for this chapter. A lot of times Tim will have a song written out and bobby and I will add our parts to what's already been written. Even then we'll give each other suggestions to play our instruments more like a caveman or play against what another person is playing. We're definitely not afraid to experiment and play everything wrong in order to make the song right. Even after a song has been recorded and released, it's not uncommon for a song to have a completely different life when we play it live. Which may piss people off because they want to hear a familiar thing that they can relate to, but have to deal with a curve ball for the next three to ten minutes. It makes things exciting for us and keeps it fresh.
MF: Are there areas that are open to improvisation or are things tightly structured at all times?
TK: Usually everything we play is tightly structured. Very rarely will we improvise but it is not uncommon for Tim to yell out to us in the middle of a song to just keep riding out that part until he cues us for the change. That could last for a long time.  Sometimes he'll cue us in our out of a song early even though we might have a few bars left because he may have a spur of the moment idea for that song. We will occasionally do improvised swells in between songs as well.
MF: There seems to be a theatrical element, especially with Melina's unaccompanied vocal songs. What things have influenced your group to make this sort of presentation?
TK: Melina never grew up playing music, so she has no musical language or background to it besides just being a fan. A couple of years ago she had an urge to sing and wanted help with arrangements, so she asked Tim for some advice and guidance. They got together and she was instantly a natural. Tim loved it so much he wanted to start a new project with her that included bobby and me. The music that they were writing was so cool and we already had a band, we knew right away that this was a no brainer. She became an official JOA.
As for the theatrical element, the three of us minus Melina, have been collaborating with a performance art group called 'every house has a door' on a piece called 'Testimonium' for the last two years. It's wild, weird, exhilarating, and thought provoking. I think that has influenced our live set recently. We've also included some music from that on tour and it works really well in the set.
MF: Do you make art of any kind outside of music? 
TK: Yes, I draw, make collages, and oil paintings. I have no real goals for the work though. It's just another creative outlet that's fun to do every now and again. It's nice to step away from music and flex my creative muscles with a different medium. I have no formal training, so I technically have no idea what the hell I am doing, but that's the beauty of it. Once you're given rules and boundaries, you limit yourself from a potential avalanche of ideas. But it also can be challenging to work with limits too. That can be a fun way to be creative because you're almost forced to exercise your brain within a tiny frame. I guess there is no right or wrong in art!
MF: What do you think are the similarities between making music and other art forms?
TK: People have creative ideas and what better way to share them with the world, than through art. Music is art, just like writing, visual arts, multimedia, cooking, shaving, and running a marathon. Folks have different ways of approaching it, but if I'm stimulated, inspired, and challenged then the artist is doing something right.
 MF: I've always felt that touring is both sacrifice and an opportunity. Can you elaborate on this idea of how touring with a band has highlights and low points?
TK: I'm writing to you in the middle of a ten hour drive in the middle of a rain/snow storm in Montana. It totally sucks, but there is a big payoff for the life I choose. Making music with my friends and traveling around the world to share it with people that get something out of it is very fulfilling and gratifying. It's a labor of love, but would rather drive long hours to play music to people who care than work the service industry to those who don't. I am single, have no children, and am not in debt so I really don't have many sacrifices back home. I feel I luck out in that sense with the lifestyle I have chosen. As long as I am balanced and not burned out with making music and touring, I'll be keeping this routine for many years to come.
Here's a video from their Fall 2013 tour.