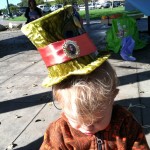 Marcus Brutlag spends much of his day trying to find time to write, and when that time finally arrives, he must usually spend a generous amount of time listening to and playing good music in order to quiet the voices of tiny children bouncing around his head before mustering a coherent sentence. Having traveled and lived frugally by the pen for the better part of a decade, Mr. Marcus now teaches elementary school and domestically resides in Encinitas.
He can be reached at: Marcus@monofesto.org
Chris Prescott is a enjoyer of music and and art. Coincidentally Mr. Prescott is also an enjoyer of sharing music and art. Lucky for you, I'd say! Mr. Prescott is a longtime Encinitas resident, teacher and musician. He has written five articles for Modern Drummer magazine, a book entitled Creative Construction and has played in a zillion bands including: Pinback, Rocket from the Crypt, No Knife, Tanner and Montalban Quintet among others.
He can be emailed directly at: Chris@monofesto.org
David Motte is a man who is very passionate about both writing and music. It was only a matter of time until he figured out how to put them together. His articles include album reviews, concert reviews and pop culture criticism which have appeared in various publications including the Los Angeles Valley Star, the San Diego Reader and innumerable blogs. He has also been the guitar player for many bands in both L.A. and San Diego varying from punk to metal and everything in between.
He can be emailed directly at: David@monofesto.org
Maria Verbinsky has been writing about art and music since 2006. Her pieces have appeared in varied locations such as the New York Times, Spin Magazine and Transworld Publications. She has also recently returned from an expedition to Nepal where she has been commissioned
to write for the Lonely Planet guide book series.
Maria's musical interests include indie rock, afro-cuban and heavy metal stoner sludge. She lives in San Diego with her two cats, Lemon and Chewbacca.
You can reach Maria directly at Maria@monofesto.org